History and Development
Lao Peoples Democratic Republic, commonly called Laos, landlocked country in Southeast Asia, surrounded byCambodia, Myanmar, China, Thailand, Vietnam as neighboring country.  Laosis one-party socialist republic where it embraced Marxism and rule by LaosPeople's Revolutionary Party and the capital city of Laos is Vientiane. Laos is multi-ethnic, politically and culturally different but dominated by Lao people and has a low-income country where it has one of lowest income inthe world. In 2014, they ranked 141st on Human Development Index (HDI) which indicate lower medium development caused by corruption in the government which placed them as one of the most corrupt country in the world.   Currently, the economy of Laos israpidly growing, as government initiate reforms by decentralize control and encourage private enterprise in 1986 which led them to ranked as one of the fastestgrowing economy in the world.
However, Laos relied on foreign investment to attract the capital from overseas to support its economicrigorousness and despite its rapid growth, it remain one of the poorest countries in Southeast Asia which lacks adequate infrastructure and largely unskilled workforce. Even then, they continue to attract foreign investment asit integrates with ASEAN economic community and in 2016, its income were at$5,700 on purchasing power-party basis.  The Laotian economy continues togrowth after reformation intitiated in 1986 but disrupted by 1997 Asian financial crisis and mismanagement of country management has spark inflation and steep decrease of the kip, Laotian currency which lost 87% value from 1997to 1999 but currently at its recovering stage.  Laos economy has changedfrom Soviet-style command economy system to new economic mechanism to encourage foreign investment in Laos.  Currently the country's finance sector ismanaged by Mr Somdy Douangdy, who assumed office since 19th April 2016 and its headquarters is at Vientiane.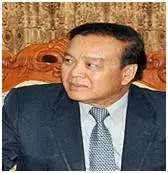 Mr. Somdy Douangdy, Laotian Minister of Finance since 19th April 2016
Lao PDR, a lower-middle income economy with a GNI per capita of $1,740 in 2015, is one of the fastest growing economies in the East Asia and Pacific region and the 13th fastest growing economy globally. The Lao economy is projected to expand at around 7 per centin 2017-19 supported by a healthy pipeline of power projects and growing opportunities for the non-resource sector resulting from closer ASEAN integration. As a member of the Association of Southeast Asian Nations, Lao PDRis increasing its integration into the regional and global economy, and served as the chair of ASEAN in 2016 and joined World Trade Organization in 2013.LaoPDR has made good progress on a number of Millennium Development Goals,including halving poverty, reducing hunger, and improving education and health outcome. Lao PDR still has a high maternal mortality rate and limited skilled birth attendants and could also do more to place gender equality at the centreof its national development plans. Lao PDR is one of the first countries in theworld to localize the SDGs into the national development plan. IFC, a member ofthe World Bank Group, is promoting movable-asset finance to support businesses, especially small and medium enterprises, to play a bigger role in the Lao economy. Finance against movable assets will help SMEs tap their potential byproviding them with the necessary liquidity to run and grow their operations.The implementation decree on the Secured Transactions Law was issued and thecollateral registry was operational in late 2013 with support from IFC. Sincethen, more than 300 business loans have been financed based on movable assets.
Senior international and domestic speakers introduced established industry practices, latest trends, andexperiences from other countries and discussed the changing environment formovables finance in Laos and the roles of government and financialinstitutions. "SMEs are a crucial part of the Lao economy. Promotingaccess to finance for SMEs has been a priority for the Ministry of Finance andother government authorities," Mr. Somboun Inthapattha, Head of Cabinet,Ministry of Finance. "Movables finance will increase financial inclusion andbenefit the whole economy." "Developing a movables-finance marketrequires understanding and active participation from variousstakeholders," said Phongsavanh Phomkong, Head of IFC Office in Vientiane.The objective is to develop a dynamic market for movable-asset finance in thecountry. The symposium followed a two-day technical training on movablesfinance offered by IFC and the Ministry of Finance as part of the effort to strengthen lender capacity in this new business area.
Laotian currency & Lao Central Bank
Laos kip has been the official currency of Laos since 1952  and had gone through severalchanges starting as Free Lao Kip (1946), Royal Kip-1952, Pathet Lao Kip- 1976and finally Lao PDR kip on  1979 where it replaced the old Lao liberationkip at new rate of 100 to 1. This currency is managed and controlled by Bank ofLao PDR.  At the current time, 1 Laotian kip equals to 0.00012 US Dollar in reverse, 1 US Dollar equals to 8012.82 Laotian kip.
 Official currency of Laos, the Laotian kip
The currency of Laos is handled by Bank of Lao PDR (Lao People's Democratic Republic) which based in Vientiane, Laos and it's a central bank in Laos where they control the money supply, managing the country reserves and monitoring any commercial banks, beit local and international operation in Laos.  The current Governor of Lao PDR Bank is   Somphao Phaysith and its deputy Bounsong Sommalavong.Lao PDR bank was founded on October 7, 1968 and has since been operating in the country's capital.  On  January 25,2012, the Lao PDR bank governor announced that they will issue 100,000 Lao kip banknotes as a regular issue on February 1, 2012 to encourage Laotian using the national currency instead of using Thai baht or  US dollars.
Lao PDR Bank HQ and its Governor,   Mr. Somphao Phaysith 
Later Developments in Laos 
On 15thFebruary 2017, Vietnamese Minister welcomed Laos Minister of Finance, Somdy Douangdy who were on a working visit to Vietnam where both countries will cooperate to enhance their financial sector where they shared on difficultiesas well as achievements of socio-economic development of two countries and stated that Vietnam and Laos had made any task of completing financial task of 2016 in economic context in the world that faced difficulties and challenges atcurrent time. Dung offered congrats on the monetary and budgetary accomplishments of Laos PDR with a development rate of 6.9% and GDP achieved$US 2,027 in 2016; fundamentally the macroeconomics are steady, keeping theexpansion rate at 1.35%. Consequently, Minister Dinh Tien Dung trusted that in2017, Laos PDR will keep on achieving huge achievements so as to keep up and accomplish high development. Mr. Somdy Douangdy said thanks to Minister DinhTien Dung and units under the Ministry have invested energy to meet and tradesees on collaboration in the money related part between the two nations. Having similar perspectives with Minister Dinh Tien Dung, Deputy Prime Minister of LaoPDR, Mr Somdy Douangdy said that in 2016 the Ministries of Finance of both nations coordinated adequately, particularly trading encounters, buildingenactment , preparing to enhance staff limit and building foundation. Throughthe co-operation between the two nations, it has added to enhance the nature ofstaff in the budgetary division in Laos, adding to fortify the practical participation between the two nations.  Moreover, Minister Dung said that,with regards to profound worldwide mix, the household economy locale stillexperience issues in that the interest for use of the two nations are vast, particularly use for development, foundation and social welfare. The Governmentand the Ministries of Finance of both nations ought to additionally fix open costs. Other than that, reinforcing the money related teach related with theduties of services and neighborhood government.
Minister Dung promised that the ministry of Finance of Vietnam is prepared to work intimately with the Ministryof Finance of Lao PDR in all fields, particularly in cutting edge preparing for expert limit, enhancing the effectiveness in administration and spending operations, to serve the financial advancement of the nation. On the same day,Korea's KB financial group entered the Laos market centred on auto financewhere KB Kolao Leasing Co. Ltd will provide financial services to customers through the Laotian bank and expanding in the country by cooperating with KBFinancial Group by utilizing the strong network of Kolao Group.  They hoped that their venture into Laos will become the group's successful overseas expansion where they believed it has high potential.  They will first provide instalment financing on cars distributed by the group before expanding into Laotian car finance market.  International Financial Corporation whichpart of World Bank Group is in talks with Lao PDR bank to reform the credit system in Laos in effort to improve country's financial infrastructure, facilitated lending for small business to enhance economic growth in Laos. Labs partnership with IFC will upgrade their credit reporting to international standards, improving creditor protection and increase access to credit, asstated by Deputy Governor of Lao PDR Bank to Laotian Times.
Laos is currently moving towards modernization and opening up of their economy to their outside world. Laotian government need toensure that corruption doesn't happen again in the country and accelerate theirpath towards a high income country by 2030 and to stabilize their financialsector and embrace technology quickly in facing globalization where technology is the main way to maintain a financial sector in every country in the world.