Laos is the landlocked country inSoutheast Asia surrounded by Thailand, Cambodia, Myanmar, Vietnam and China has recently continuing its plan on improving its science and technology industry to compete with other competitive Southeast Asian nations.  Laos has prepared plans and strategy for this sector focused on developing scientific and technological thought, as well as human resource development. Laos has joined and on process of implementing ASEAN Plan on Science and Technology where it cooperated with regional counterparts to further develops the sector and exchanging information in the field of science and technology. Ministry of Science and Technology is established to monitor and regulate the development of science and technology in Laos.
Laos and Vietnam strengthening their cooperation on social science research by exchanging information and sharing their work, aiming to enhance the social science research in this two countries which involved two agencies from Vietnam and two from Laos which will step up information exchange inthis field in this agreement. The agreement aimed to increase the capacity of officials, meeting domestic development and international integration requirement, and promoting social science research in these two countries and coordinating scientific projects in both countries. Agencies in both countries will share theoretical and exchanging documents on scientific papers where Vietnam will assist Laos's scientists to publish their work based on scientific research carried out by Laos and Vietnam itself. Laos is working with China on agricultural science where both countries will cooperate on the areas of crop science, plant protection and animal science, food quality and safety and agricultural machinery. Based on the agreement signed on December 12,2016, China and Laos will implement on agreed areas of cooperation where it will exchange scientists and experts, scientific-technical information and literature while other areas will obtain mutual consent from both parties before proceeding to implement that area of agreement which will improve the agricultural industry in both countries.
After all this agreement between Laos and international partners, Laos needs to increase more cooperation between state and local agencies to improve the sector. Lack of agreement and cooperation between two agencies has caused the development of science and technology slowed down and missed the deadline and plan. At a forum organized by Minister of Science and Technology, deputy minister of science and tech highlighted the importance of cooperation between the two agencies to increase contribution in this sector. Laotian government supports the private sector in encouraging investment in this sector as part of Science and TechnologyDevelopment Strategy to 2025 and Vision to 2030. The ministry focused developing scientific and technological thought and innovation, human resource development and improving science and tech in rural areas. National University of Laos is the only national university in Laos is established in 1996 in Vientiane and its role is to provide education in areas required in Laos social development, where it performing research, arts , culture and tradition preservation and providing education to Laos citizens. They are upgrading its ICT system where it focused on network development, internet services ICT application teaching-learning activities, research activity and NUOL management organization planning. Vietnam and Laos also cooperating to improve their science and tech industry, assist Laos in developing its scientific and technological brand. Enhance science-technology application, assisting Lao provinces socio-economic development and provide assistance to Laos's Ministry of Science and Technology by sharing experience on management of science and technology activities.
Vietnam's MOST will provide assistance to Laos ministry create and prepare legal documents on science and technology, research project designing based on Laos proposal to improve scientific research capacity, technology application and innovation.
On November 30, 2016, Japanese group-aided successfully completed Laos's first energy –saving data centre which will modernize the underdeveloped Southeast Asian nation infrastructure.The daya centre, located in Vientiane is part of demo project by New Energy and Industrial Technology Development (Japan), and it consumes 40% less energy than current data centres.  InternetInitiative Japan is leading the data centre development with other company cooperation.  After testing, the data will be transferred to Laos's government and this energy-saving data centre will be first of its kind outside Japan. Laotian Minister of Science and Technology said that with this completion, Laos has potential to become Southeast Asia datacentre hub due to electricity resources abundance.  Under the United States- Laos joint declaration, both countries will cooperate to promote scientific research, capacity building and others to enhance sustainable development of Mekong River.  Both countries will also cooperate on promoting sustainable development and management of hydropower and forestry resources to adapt to climate change and enhance the effectiveness of natural disaster response in Laos.  On February 2017, Laos and Thailand extend cooperation in science and tech field where sharing of ideas in the areas of health, water management and environment, bio-energy, food security and safety, innovation and other scientific fields where it is important to support the development of science and tech in both countries.  During the workshop on this field at Vientiane, both countries adopted ASEAN Plan on Science, Technology, and Innovation for 2016-2025 where Laos has defined and prepare strategy on developing scientific and technological innovation as well as human resources development and also innovation industry.
According to The Laotian Times, one of Laos's national newspapers, Laotian government has set target to develop and expand the ICT infrastructure, which was managed by Ministry of Post andTelecommunications.  Laotian Deputy PrimeMinister stressed the need of Laos having its own national data information to store all government and private organization electronic data around the country. He also said that awareness campaign to Laotian citizens on the usage of social media correctly while focusing on ICT and human resource development guide Laos's first telecommunication satellite project (Laos Sat-1).  Laotian Ministry of Post andTelecommunications is responsible to manage the nation's ICT industry concentrating on the development of modern structures such as National Internet Centre, Cyber Safe Protection Centre, Lao Satellite, Lao Computer EmergencyCentre and others. Laos and Singapore are cooperating on the nation's cyber protection development in preparation for constant cyber-attacks that affected few countries in the world. Laos Ministry of Post and Telecommunications will collaborate with Singapore's Portcullis Technologies for this development project where they stressed on the importance on cybersecurity and protection and how can Laos mitigate the cyber threat exist in the Internet world now.  This is part of national ICT Vision 2030 andICT 5-Year Strategic Development Plan aimed at advance the adoption of emerging ICT for sustainable development, secure information sharing, and safe online environment.  The government of Laos has put promotion of information communication technology as its main priority as a crucial support for socio-economic development. This promotion includes new laws, regulations, decrees, and related legislation on governing and ICT sector management to protect critical national information infrastructure. Both of this agency will share on ways to overcome this challenges in partnership with Laos's ICT system integrator, DatacomCorporation Ltd which is an important collaborative initiative to introduce unique cyber training and consultancy on information and operational technology.
As Laos still recovering from the remnants or war where explosive still remain undetonated in some areas in Laos, New Zealand has created a technology that could do so where it willdestroy unexploded ordinance which it meltscasings without the need of digging up each piece and it is easier to clear anduseful in densely populated areas.  AsLaos the most bombed country on earth, remnants of bomb that were not explodedcaused serious injuries to Laotian people today, which prompted the creation of the technology which led to the decrease of the countries development as population were destroyed by an unexploded bomb in Laos.  On 10th of January 2017,  Laos has set up a partnership with Microsoft to accelerate digital transformation in the country for sustainable development and business development with focus on project with social impact.  Microsoft Empowerment Plan's approach aimed at emerging markets such as Laos, to embark on digital transformation journey by working with government agencies to support in overcoming challenges and building more cloud-enabling environments to accelerate competitiveness, productivity, and modernization of operations using technology.  Laos economy are able to take a giant leap forward by using power of emerging ICT to accelerate the growing economy, transforming Laos into digital enabled community and economy and it is critical for Laotian to have digital literacy. Microsoft is working with Laos to deliver educational programmes and support the educators with right resources to implement science and technology, engineering and mathematics (STEM) to local youth, which will prepare them for the future working world after graduation. Previously, Microsoft signed a memorandum with Laotian Ministry of Education and Sport to develop holistic plan in leveraging technology for education for Laotian citizens
All of the science and tech development in Laos is still on-going with cooperation with international partners as well southeast Asian neighbors and China, one of world economic leader to assistant upgrade Laos's science and technology industry to achieve its Vision2030  and to become ICT nation by 2030.
Vientiane, capital of Laos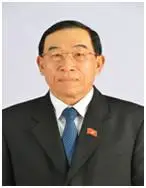 H.E. Dr.Thansamay Kommasith
Laotian Ministry of Post and telecommunications